Maria Sole Cecchi是Les Petits Joueurs设计师。Maria出生于意大利,她从小喜爱创作,在她成年以后,她决定离开在弗洛伦莎的家去巴黎寻找灵感。
刚开始MARIA跟随自己的兴趣开始重新改造一些包包,在这个过程中她获得了灵感。她粘著名的乐高积木在那些包包上,加上一些新的配件,而后她惊奇的发现…… 这是对于MARIA的创作生涯来说一个重要的开始。刚开始仅作为一种消遣 来展现Maria个人的喜爱和品味,但是很快她独特的设计与新颖的想法就获得来 自世界各地的时尚精英的关注和好奇。就这样,Les Petits Joueurs品牌诞生了。
Les Petits Joueurs包包的款式与配饰都是限量生产,包包做工非常精细,内部设计也很巧妙,全部都是弗洛伦萨的传统手工师傅手工制作。
We caught up with Italian born Mariasole Cecchi about her playful lego and leather handbags and jewelry creations. Cecchi shares with us a little about what inspires her in life.
我们有幸采访到了这位意大利出生以皮革和乐高积木为创作素材的设计师Mariasole Cecchi。跟ALTER一起来听听她的创作灵感来源吧!
What do you do and how did you end up doing it?
你是怎样创造出这样一个品牌的?
I created a leather accessories and jewelry line with the use and inspiration of the famous Lego brick. My brand name is LES PETITS JOUEURS. I started doing this as I felt a need to be different and bring color into a brand and with a desire to create something different to what is out there. At the time I was living in Paris, and it was there that I felt the need of taking fashion rules a little less seriously.
在乐高积木的灵感激发下,我设计出了一个皮革系列和珠宝系列,然后将这个品牌命名为LES PETITS JOUEURS。起初我做这个是想做一些与众不同的东西,将色彩融入到品牌里。当时我在巴黎,我感觉到时尚的态度其实可以是多样的,并不一定要很严肃。
Who are your favorite artists/designers at the moment?
谁是你最喜欢的艺术家或者设计师?
Pascale Mussard, my boyfriend's mother, who is an incredible artist. She is capable of mixing art with fashion, she is also the art director of the brand PETIT h. And Brazilian/French painter Isabelle Tuchband. She fascinates me with all her painting which are full of colors and spread positivity everywhere.
我男朋友的妈妈Pascale Mussard,是一位了不起的艺术家。她能够将艺术和时尚融合,她同时也是PETIT h这个品牌的艺术总监。我还喜欢巴西法国画家Isabelle Tuchband,她的色彩丰富的画及其传递出的正能量让我着迷。
What makes you laugh?
什么事情能够让你笑?
From a positive perspective when people do not take themselves too seriously. In the negative, the opposite.
从积极角度看,当人们不把自己太当回事时。消极角度嘛,就是当人们太把自己当回事了,都会让我感到好笑。
Perfect holiday destination?
最喜欢的度假胜地是哪?
Any place in the world I have not visited yet! I love to explore new places and it is what I try to do each time I go on holiday.
我喜欢世界上任何我没有去过的地方!我喜欢探寻新的地方,这就是我每次选择度假地方的方法。
What's your favorite Paris hangout?
在巴黎,你最喜欢逛什么地方?
During the day the Palais Royal area, during the night I like to walk around the 8th, there are so many cool bars and clubs in that neighborhood.
白天我喜欢在皇宫附近转,晚上我喜欢在第八区周围逛逛,因为那附近有好多特别棒的酒吧。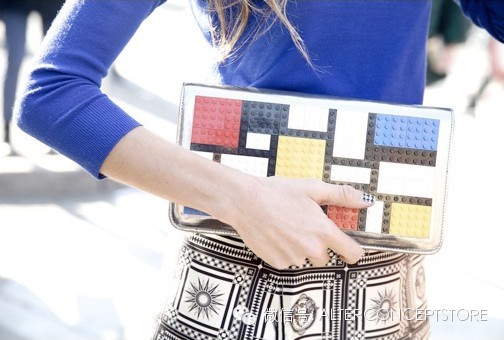 What annoys you?
什么事情会让你很讨厌?
People with no personal interest or passion in their lives.
生活没有激情或没有任何兴趣的人。
What inspires you?
什么事情会激发你的灵感?
Experiences. People and their fascinating life stories.
经历啊。一些人和他们迷人的人生故事。
What is the most exciting thing that has happened to you?
在你身上发生的最令人激动的事情是什么?
Moving to Brazil.
搬到巴西生活。
If you were an animal, what would you be?
你希望变成哪种动物?
A leopard. Just to have the same fur as he has. So beautiful.
猎豹。我爱死它身上的花纹了。太漂亮了!
LES PETITS JOUEURS 2014 spring summer collection is now available at Alter Concept Store.
LES PETITS JOUEURS2014春夏新品现已经登陆ALTER。